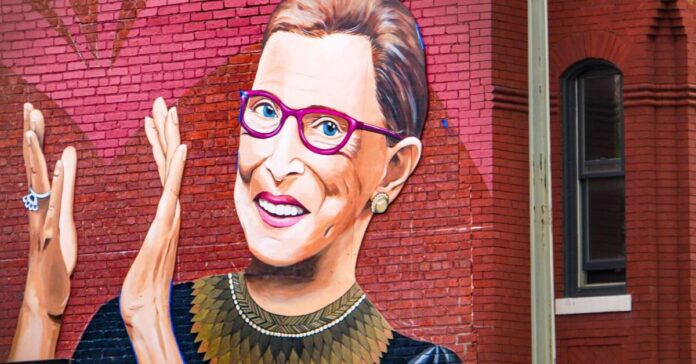 ROSH HASHANA, HEBREW CALENDAR YEAR 5741 /  SEPTEMBER 18TH, 2020
Supreme Court Justice Ruth Bader Ginsberg passed away minutes before the eve of Rosh Hashana at her Washington D.C. home.  The nation recognized her throughout the night as landmarks around the country were lit in blue.  Within twenty-four hours of RBG's passing, a wall mural was painted by Shawn Perkins and David Zambrano near the Black Lives Matter Plaza in our nation's capital.
NEW YORKERS MOURN THE LOSS OF THEIR OWN BROOKLYN LEGAL EAGLE
Accolades immediately began pouring from the mouths of New York politicians that accompanied well wishes from the populace.  Tributes popped up around the city.  Mayor Bill de Blasio tweeted several messages "She never backed down from a fight."  Sidewalk chalk street messages appeared with handmade posters.  RBG's childhood home at East 9th Street in the Midwood section of Brooklyn suddenly had makeshift memorials at the base of the front door tree.
Brooklyn borough president, Eric Adams, added "RBG ran her mile.  Now it's time for us to pick up the baton and run ours."  Mayor de Blasio announced the Brooklyn Municipal Building would be renamed in Ginsburg's memory.  This honor was originally proposed by Eric Adams two years ago in recognition of Justice Ginsburg's service to the nation.
Yesterday, Governor Andrew Cuomo announced the formation of a commission to erect a statue of Ginsburg that will be placed somewhere in Brooklyn Bridge Park.  It is the Governor's desire to have Ginsburg's likeness dramatically face off with the other Lady of the Harbor, the Statue of Liberty.
Ginsberg's statue will join just one other monument that graces the surrounding waters of New York Harbor. The likeness of President Franklin Delanor Roosevelt dramatically sits at the southernmost tip of New York's Roosevelt Island in the East River under the 59th Street Bridge that connects Queens to Manhattan.
WHERE WILL THE RBG STATUE ULTIMATELY BE PLACED IN BROOKLYN BRIDGE PARK?
The idyllic stretch of Brooklyn waterfront is both a place of peaceful contemplation as well as rugged competition.  Piers 2 through 6 majestically jut out into the harbor and they have been meticulously manicured as a Sports Complex consisting of volleyball, soccer fields, basketball courts, handball courts, roller-skating, bocce, and ping pong. Nestled in between each pier is access to the water where kayaking, sailing, and a sand beach offer other activities. There are still sections of the waterfront park that remain undeveloped.  Allow us the opportunity to show you the areas where the Governor's commission will be deciding where exactly RBG's statue is going to be.  Notorious RBG's likeness will be in good company in any of these spots, while sport and competition is juxtaposed with a calm view and a sense of serenity.
Please inspect our video so you can offer your suggestion of a location you like best of the five possible options.  NYHC will forward your voice to the Governor Cuomo Commission. Please comment below.
A NEW LONG-TERM PLACE OF REST AND CONTEMPLATION
After the commission votes on the spot, when all is said and done, the entire stretch of Brooklyn Bridge Park from Atlantic Avenue on the south to Dumbo's Fulton Landing to the north is a magnificent way to spend the day.  The New York City Ferry has stops at both extremes of Brooklyn Bridge Park and it is well worth the short four minute ride in either direction.
THE NOTORIOUS RBG CONNECTION TO BROOKLYN AND THE NOTORIOUS BIG.
Brooklyn's vast list of authors, composers, musicians, educators, public servants, and sports personalities place Ginsburg in good company.  Brooklyn's historic alumni are too numerous to list; however, NYHC has featured many of them.  Not all of them were as accomplished as RBG.  Her Brooklyn path to the Supreme Court started at PS 238 and James Madison High School where she was a cheerleader.  Her family affiliation with the Midwood Jewish Center.  She graduated Cornell University and entered Columbia Law School.
"Give me your tired, your poor, your huddled masses yearning to breathe free." is the quotation on the plaque on the Statue of Liberty.
Echoing this voice from the harbor, here are RBG's fitting remarks: "We the people of the United States in order to form a more perfect union." Think about how things were in 1787. Who were 'We the people'? Certainly not people who were held in human bondage because the original Constitution preserves slavery. Certainly not women whatever their color and not even men who own no property. It was a rather elite group, 'We the people,' but I think the genius of our Constitution is what Justice Thurgood Marshall said. He said he doesn't celebrate the original Constitution but he does celebrate what the Constitution has become, now well over two centuries. That is the concept of "We the people" has become ever more inclusive. People who were left out at the beginning – slaves, women, men without property, native Americans – were not part of 'We the people.' Now all the once left out people are part of our political constituency. We are certainly a more perfect union as a result of that."