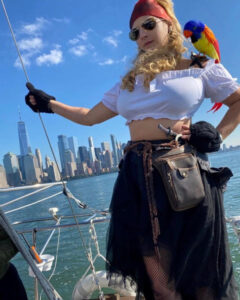 The "Boatbusters! Halloween Parade, Race & Fundraiser" sure was a success! According to the History Channel, Halloween tradition is dated back 2000 years ago, where the Celts marked the end of summer and the harvest and the beginning of the dark, cold winter. This tradition was spread through Europe and was modified by the church and different ethnic groups. In America, as the beliefs and customs of different European ethnic groups and the American Indians meshed, a distinctly American version of Halloween began to emerge. The first celebrations included "play parties," which were public events held to celebrate the harvest. Neighbors would share stories of the dead, tell each other's fortunes, dance and sing. In the late 1800s, there was a move in America to mold Halloween into a holiday more about community and neighborly get-togethers than about ghosts, pranks and witchcraft. At the turn of the century, Halloween parties for both children and adults became the most common way to celebrate the day. Parties focused on games, foods of the season and festive costumes. To me, Halloween has always been a holiday I had mixed feeling about. On one hand – I am all in when it comes to wearing costumes, decorating houses and having fun. On the other hand – I always felt a bit quite uncomfortable with the Trick-or-Treat tradition, as kids who are Trick-or-Treating are expecting to get candy, get upset when they don't get enough and get pulled into crazy sugar-rush caused tantrums.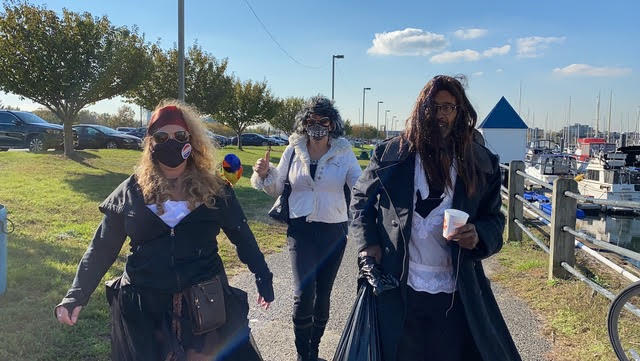 As President Kennedy said in his inaugural speech on January 20, 1961:
"…my fellow Americans: ask not what your country can do for you — ask what you can do for your country."
If there's one good thing that came out from 2020 is a shift in attitude. Some sociologists and politicians thought that the long months of lockdown, learning, adapting and becoming accountable to new standards of behaviors, such as: personal hygiene, social distancing and mask wearing, would be detrimental to our society. In reality, people who care stepped up in solidarity and took action to make an impact on the lives of the less fortunate.
A few months ago I wrote an
article
telling about Michele Wiemer and Barry Richards, a sailor couple, who started cooking meals on their boat and delivered them along with masks to Jersey City Homeless in Journal Square. A couple of weeks later, Michele & Barry started a
Go-Fund-Me
campaign – "
Sailors and Seniors Helping Jersey City Homeless"
to raise money to fund food products and mask materials. Since then, Michele & Barry's network of friends and family across the country got inspired by this initiative and joined them in making different nutritious meals every week and making sure that the homeless – who are part of our community and society, are protected and protect others who they come in contact with from Covid-19.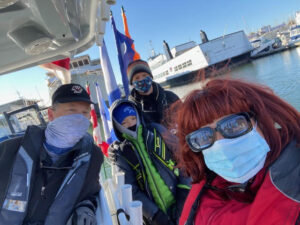 Halloween is always a bitter-sweet time of the year for us, sailors. While it's fun to go sailing wearing costumes, it's also the last sail for the season… Remembering Kennedy's famous quote, I decided not to let covid-19 to get in the way of celebrating our community through extending kindness beyond. In that vein, I decided to re-imagine the Trick-or-Treat custom, from an act of getting something or feeling entitled to something, to an act of giving to others. The Trick-or-Treat became a way to either raise donations to the "Sailors and Seniors Helping Jersey City Homeless"Go-Fund-Me campaign (Trick) or donate a coat, a warm clothing item or a non-perishable food item to the homeless (Treat).
As a new member of Liberty Yacht Club, I was able to present this idea and gain their support. The officers of Liberty Yacht Club recognized the impact we can make as a community by supporting its members in bringing awareness a local NY Harbor region cause, through bringing members last opportunity for this year to get together on the water and to start an annual club tradition. With the assistance of LYC members, LLM tenants and others, I was able to present a day long event that included a boat parade, a sailboat race and a Trick-or-Treat contest.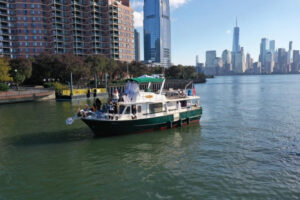 The event started on a very cold morning of Saturday 10/31/2020, with the Boatbusters Boat Parade, led by Le Peniche – with Captain Jim Chambers at the helm. Le Peniche led the 9-boat parade along the Morris Canal from Liberty Landing Marina's fuel dock west, and then back east towards green buoy 1 at the entrance to the Morris Canal. The parade participants stepped up for the game with decorating their boats, having Halloween theme accessories and costumes. A few kids were sited on board the different boats, and in spite of the cold temperatures, everybody seemed delighted and amused. After the boat parade, 7 of the boats prepared for the race start.
Race Committee boat – which was donated by Pat Kenny, set anchor between Liberty State Park and the green buoy 1. Principal Race Officer – David Spence announced the race course to be: Start >> G35 Buoy >> G1 North of Governors Island >> Finish. Apparently most boats didn't hear the course announcement, so boats were late to cross the start line. But hey – it's Halloween and these were the Boatbusters – so give them some slack! Assisting on Race Committee boat were Tucker – David's 12yo son – who was in charge of raising the race flags and (yours truly) Nitzan Levy – who was in charge of photography. With light winds coming from the north and the end of slack, it took the boats a while to get to the first rounding mark. Once rounding the mark, the light wind shifted to the south and the ebb current kicked in, which made 3 boats (Dulcinea, Mary Ann 2 and New City Kids) to resign from the race. The course was slightly shortened for the rest of the fleet and Feng Shui was the first to cross the finish line, followed by Koinonia and Synergy – neck to neck, and Liberty a bit afterwords. The final race results with corrected times can be found in the table below:
Yacht

PHRF

Start time

Finish time

Elapsed Time

TCF

Corrected Time

Place

Synergy

93

10:50:31

12:49:18

1:58

1.011

2:00:05

3

Liberty

213

10:50:31

13:15:30

2:24

0.852

2:03:31

4

Mary Ann 2

120

10:50:31

18:00:00

7:09

0.970

6:56:40

DNF

Feng Shui

90

10:50:31

12:48:33

1:58

1.016

1:59:53

2

Dulcinea

198

10:50:31

18:00:00

7:09

0.869

6:13:13

DNF

Koinonia

133

10:50:31

12:49:19

1:58

0.952

1:53:04

1

New City Kids

163

10:50:31

18:00:00

7:09

0.912

6:31:32

DNF
After the race, boats returned to the docks and the third part of the event started – Trick or Treat! 3 different teams – Team Feng Shui – that collected donations from Hudson Point Marina Tenants, Team Moochie & Jim – that collected donations from LLM docks C, D and E, Team Liberty – that collected donations from LLM docks K, L, M, N, O. LLM docks F, G, H, I and J brought their donations to the collection table in front of I dock.
The event volunteers worked on sorting and recording all of the donated items and after finishing the task, everybody helped loading Barry's van with all the bags.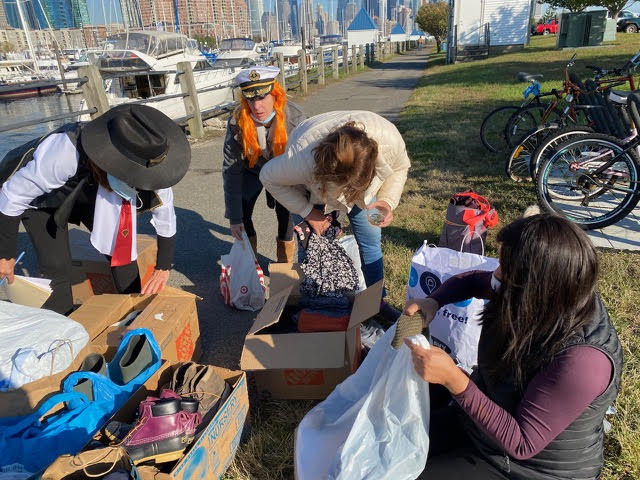 All to all,
we raised over $2,000
(of which over $900 through race registrations) for
Sailors & Seniors Helping Jersey City Homeless
through the
Go-Fund-Me campaign
. In addition, the Trick-or-Treat teams collected
206 clothing items and 148 food items
. What an amazing turnout!
We are pleased to announce the winners of the different categories:
Best Decorated Boat: Le Peniche – Captain Jim Chambers with the help of Moochie Corrado, Lisa King,

Peggy Dougherty-Hayes

and Camille Cesari

Best Costume: Heather Peet – the Voting Pirate with a Parrot
Boatbusters Race Winners:

Koinonia – Ashley and Mark Thorne
Feng Shui – Rich Christie
Synergy – Henrik Pedersen

The team collecting the most food items: Team Moochie & Jim – who collected a total of 42 items!
The team collecting the most clothing items: Team Feng Shui – who collected a total of 120 items!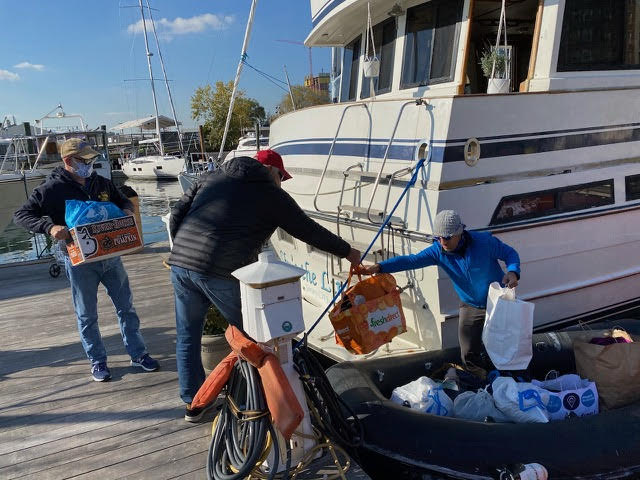 The special custom made prizes, created by glass artist Stephanie Baness of
Moxie Sorbet Designs.
Thank you 
Liberty Landing Marina 
and
Dockmaster Andrew Licata
for your help and support in coordinating the event.
If you still want to donate to Sailors & Seniors Helping Jersey City Homeless – it's not too late! Feel free to make donations through Go Fund Me:
https://rb.gy/e9v5ni
. If you wish to donate clothing or food items – please contact Michele at
michelewiemer@gmail.com
Photo credits: Barry Richards, Peggy Dougherty-Hayes, Jolanda Blum, Andy Licata and Nitzan Levy