Not far south of New York Harbor,  the pleasures of the Chesapeake Bay region include a local Toadfish Festival! While I was trawling the internet in hopes of finding someone who might have knowledge on local stories from the War of 1812 for our latest article coverage; sure enough, I got what I was looking for plus a little bit more.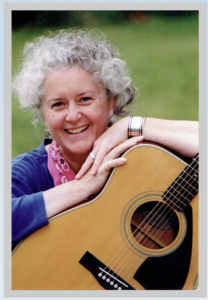 Janie Meneely, a songwriter, wrote a poem some years back on Grandma Polly, a true story from the Radcliffe clan, and Senator from Maryland describing their feisty relative.  Apparently, Grandma Polly was upset when she found out the British commandeered the family merchant vessel and took her husband with it.  She rowed out to the anchored British ship and demanded to speak to Admiral George Cockburn.  The Brit was so impressed, he gave audience.  After tea, Cockburn bade Grandma Polly farewell with her husband in tow.  Days later, Cockburn proceeded to march 4500 troops into battle and burned down Washington, D.C.  Oh, and the poem is about Polly hiding the family silver under her cantankerous goose as she knew the Brits had no match confronting an egg protecting fowl.
A conversation with Janie brought a smile to my face. Our zoom interview caught her in England on the North Sea.  I had the pleasure of getting to hear some of her songs from her songbook 'Sing The Bay Fantastic' which were upbeat and optimistic.  Her partner, Rob van Sante, added the bass as well as a lower octave or two on the harmony of"Susquehanna Suzie" where we can all join in on the chorus to celebrate the thrill of buying a first boat.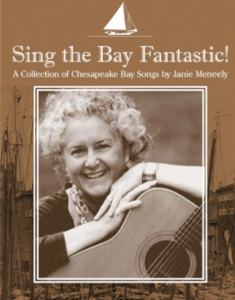 Janie's songbook, 'Sing The Bay Fantastic' is a time capsule filled with things about her growing up on Chesapeake Bay.  Born in Annapolis, Maryland, Janie threads her childhood through personal jealousies of friends' home-cooked seafood stews, soups, and everything served up raw bar. It also pulls from her experiences gleaned from her job as a journalist.  In all, she was a sea sponge having anything to do with water on the Chesapeake.
Songs like 'The Oysterman's Wife' was created while reporting a story in Deltaville.  Her most popular sea siren series is Nasty Nell.  Her fictitious character gives plenty of opportunity to explore the depths of the Chesapeake as well as the shallows.  Janie likes to focus her songs on anything that life on the water can make you happy.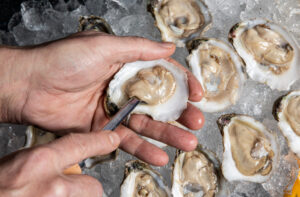 Her love of oysters has an indelible environmental impact where there is great debate between power dredging versus hand tonging.  Indeed the Chesapeake has its own regeneration initiative of oysters that rivals the efforts of New York Harbor's Billion Oyster Project.  As Janie is a true romantic, the arduous but eco-friendly method of tonging may have its return. Janie is eager to see these old bay vessels repurposed.
Janie participated in a ZOOM concert workshop on Sunday night February 21st, as part of a Folklore Society of Greater Washington program on local waterways.  The webcast featured Janie, George Ward, of New York and Lee Murdock from the Great Lakes.
So, while the harbors await Janie's return, her newly released songbook is a great way for any musician to learn a new tune and share the language of song telling first hand.  The songbook is available to interested folks for $25 through Janie's website janiemeneely.com.