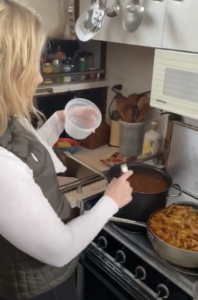 One day, while driving around Jersey City running errands at the early days of the Covid-19 crisis, Michele Smith-Wiemer and Barry Richards saw many homeless people out on the streets. They decided to take action and help them, especially during the time where there are very few people outside and welfare services are either shutdown or overwhelmed. For the first drive, Michele – who owns a Carver 36 trawler in Liberty Landing Marina – cooked chilli and tortillas at her boat galley. They shared their story and plan with their local community of boaters in the Morris Canal via Facebook and invited other boaters to join them and contribute.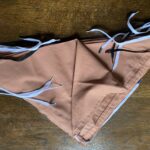 Over the past 6 weeks the donation drive became bigger and bigger and they were able to feed almost 50 of Jersey City's homeless each Sunday. In addition to food donations they received from their fellow boaters, they started a Go Fund Me campaign that is raising funds to get masks for the homeless as part of an effort to educate them as well as protect them from the pandemic. The masks are being made by seniors, of which are Michele's Mom Susan Smith and her Oregon retirement community working on sewing masks. Funds raised are helping getting materials – specifically elastic for the masks as well as to cover shipping costs. 
The donation drive is happening for the 7th time this coming Sunday, and I will be joining Michele & Barry to collect and distribute food and masks. The goal for this week is to supply 60 meals for the homeless, as well as get more masks supplied.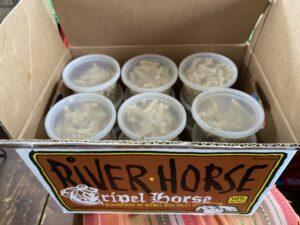 Interested in getting involved and contributing to this effort? Here are ways you can do so:
Donate elastic and fabrics for mask making

Donate food – since many homeless have bad teeth – it's best to donate soft and creamy foods such as: pasta, chilli, curry (not too spicy), rice, chips, bread, cupcakes, canned goods, chocolate and other soft candy

Contact local restaurants or catering services that are willing to donate meals (we are willing to facilitate coverage of the cost of produce and man power)

Any connection to postal or shipping services that can provide a quick delivery to Jersey City – as shipments from Oregon seem to take way too long….

Donate money through

Go Fund Me
If you are interested in helping out or have any contacts who might be helpful – please contact Michele at: michelewiemer@gmail.com