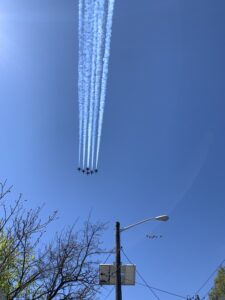 Thousands of New Yorkers peered out their windows, ran to their backyards, opened their front doors or some brave souls even went to the piers to witness the amazing tribute to first responders from the Air Forces's Thunderbirds and Navy's Blue Angels.  It has been three years since the Armed Forces Demonstration teams organized together.  The twelve fighter jet formation was assembled to honor healthcare workers across the nation.  "We're excited to fly over cities across America as our way of saying thanks to the healthcare workers, first responders and all the people who selflessly run into the breach working to keep America strong." said Air Force Chief of Staff General David L. Goldfein. Chief of Naval Operations Admiral Michael Gilday added, "This is also our way of showing that we are all in this together and that America's spirit will prevail."
The multi-city tour is promoted with the slogan, 'Operation America Strong'.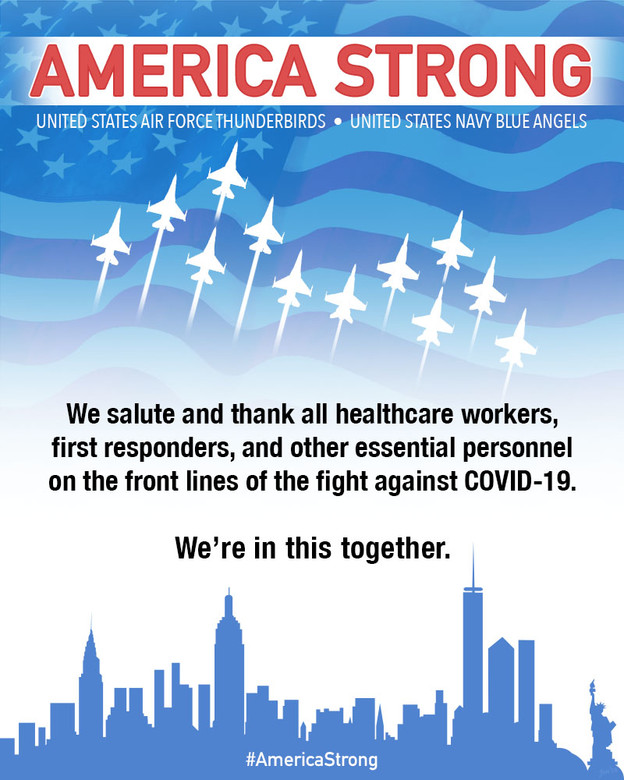 The U.S. Navy Blue Angels are based and train in Pensacola, Florida while the U.S. Air Force Thunderbirds are based in Nellis, Nevada.  Both demonstration teams are known for their aerobic maneuvers, but the flyover was designed as a simple salute to the healthcare workers. The flight formation started at The George Washington Bridge following the Hudson River down past Pier 90 where the USNS Comfort is presently stationed. It then looped over New Jersey, Long Island, and finally making its way over Queens and Brooklyn before finishing at the Verrazzano Bridge.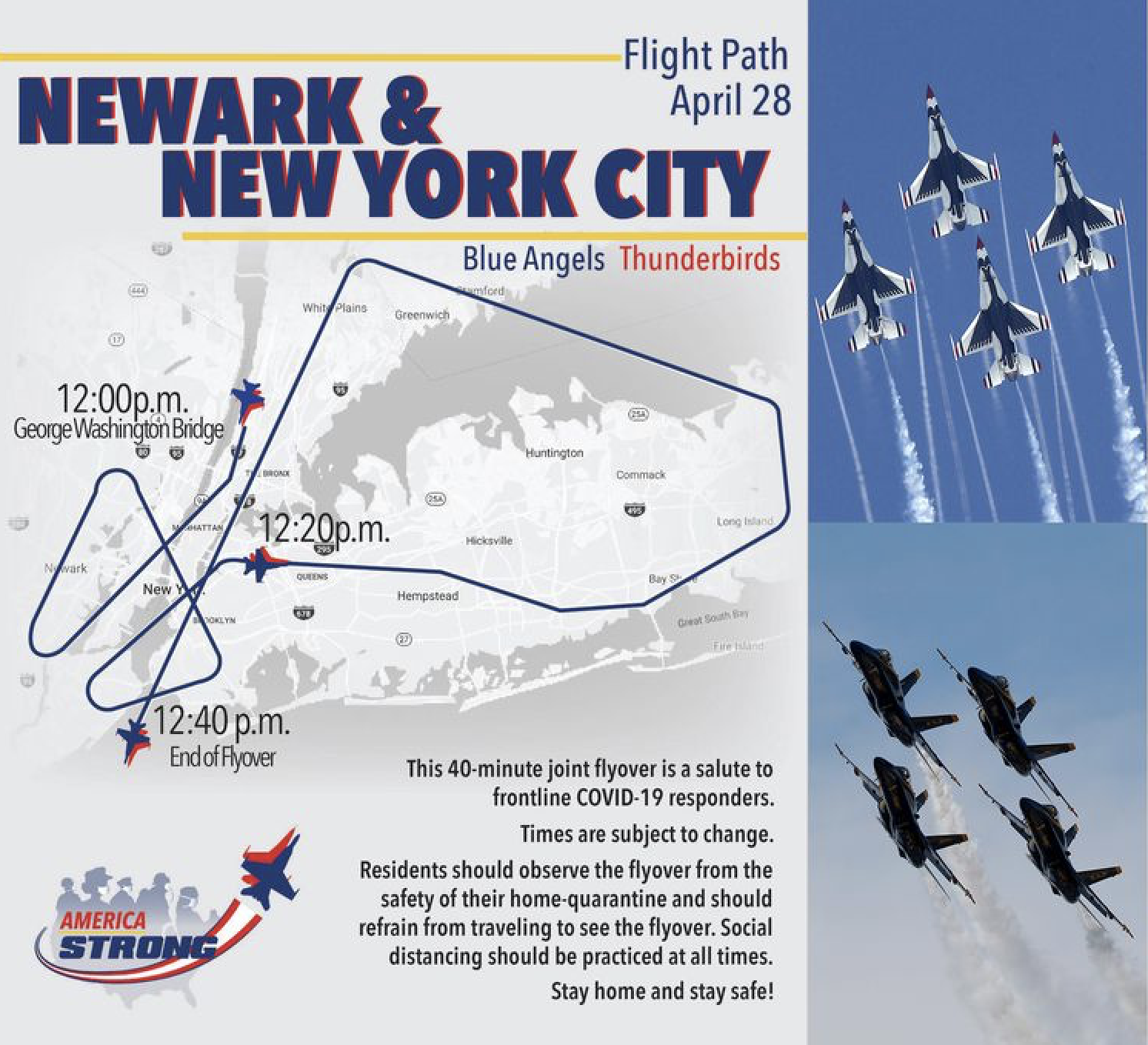 Featured in this article is our video, courtesy of native NY/NJ civilians which shows the flyover from various vantage points around the NYC-NJ area.
Afterwards, the formation flew over Trenton and Philadelphia following the NYC flyover.  The schedule will continue for the next two weeks and the flyover will target cities who are experiencing the most severe cases of Covid-19.
As a reminder to all who are taking advantage of the marvelous weather, please be sure to wear your masks when you do go outside.  Not only is it courteous to protect your neighbors, let alone yourselves, it is the law.  The waterfront was filled with spectators watching the flyover.  Approximately fifteen to twenty percent of the attendees did not have masks.  Be stylish!  Many small manufacturers are busy creating personalized face coverings that are cool to add to your sporting attire.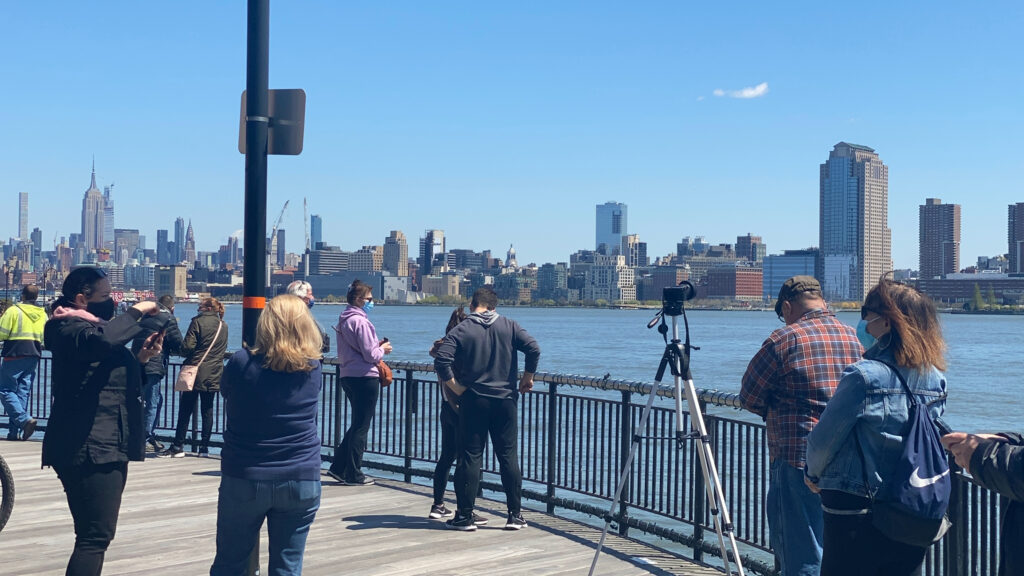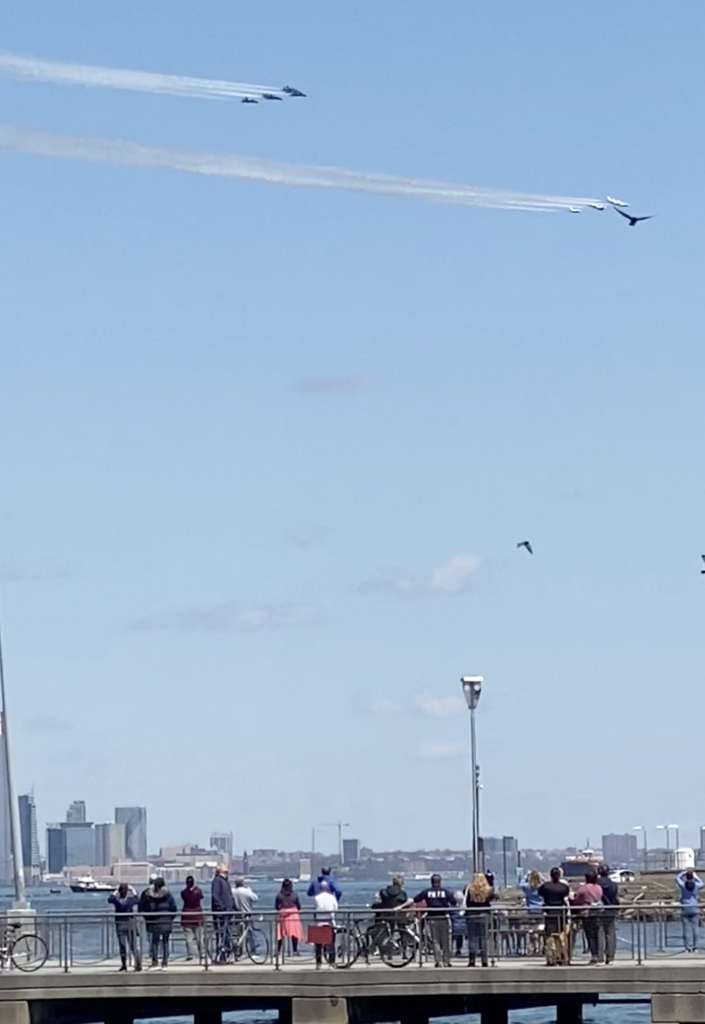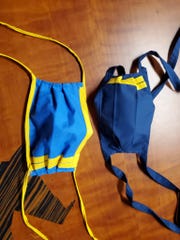 The Blue Angel Pilots wear their new blue and gold face masks as it has been added to their official uniform for photos.  The Pensacola Mask Sewers, who produced them, are donating the fashionable protective gear to hospitals.
The next event that will draw a nice sized crowd to the New York Harbor waterfront will be the departure of the USNS Comfort that was rumored to leave Pier 90 on Thursday, April 30th.  As of this moment, there is no official sailing date but NYHC will post the date when it becomes available from the U.S. Navy.