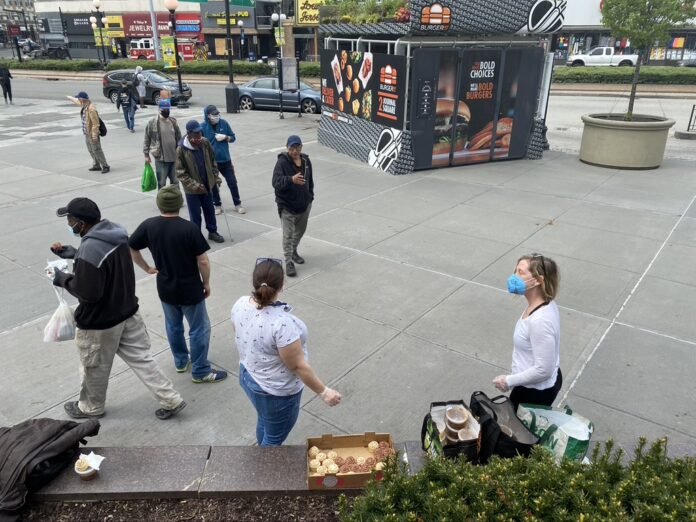 "Life's most urgent question: What are you doing for others?" –Martin Luther King Jr. 
The global pandemic crisis took a toll on many of us. The need to isolate ourselves from others in order to flatten the curve and protect people at high risk, required us to stay home. While some of us were able to adjust and re-invent their working and study habits, for many others, their lives had changed for the worse. For homeless people who are struggling to keep their personal hygiene and get food on a regular basis, it became even more challenging. The welfare services are interrupted and there are just not enough people out who would show random acts of kindness. 
On Sunday I joined my friends Michele Smith-Wiemer and Barry Richards on their 7th donation drive. As mentioned in my previous article, the preparations for the weekly drive are being operated from Michele's boat docked at Liberty Landing Marina in Jersey City and supported by the local boaters community. Michele is collecting food donations and cooks at her boat galley, and together with Barry they are driving around every Sunday to deliver the meals. In addition to meals, Michele and Barry are also supplying masks made by seniors – Michele's mom, Susan Smith, and her Eugene, Oregon retirement community.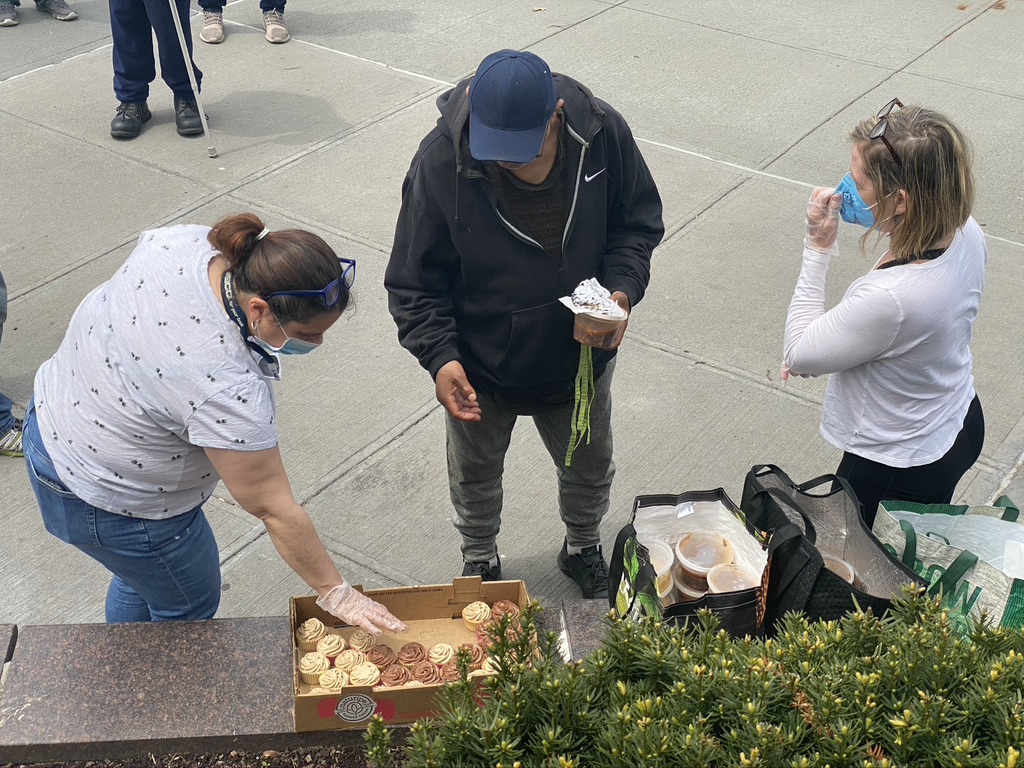 Michele & Barry made 45 meals – this week the recipients had a choice between chili or mac & cheese with a yummy cupcake for dessert – made by Barry's daughter. We drove around Jersey City looking for homeless people in known spots. It was important to us to find those who prefer to be on their own rather than to congregate where other homeless people do. Eventually we arrived in Journal Square, where typically many homeless people hang out. At Journal Square we were welcomed by Louis – a resourceful and kind young man who Michele & Barry met on previous drives. Louis organized a line, making sure the homeless are keeping a 6' distance between each other and wearing masks. For those who didn't have masks, or had disposable masks – we provided one of the hand made masks we brought with us.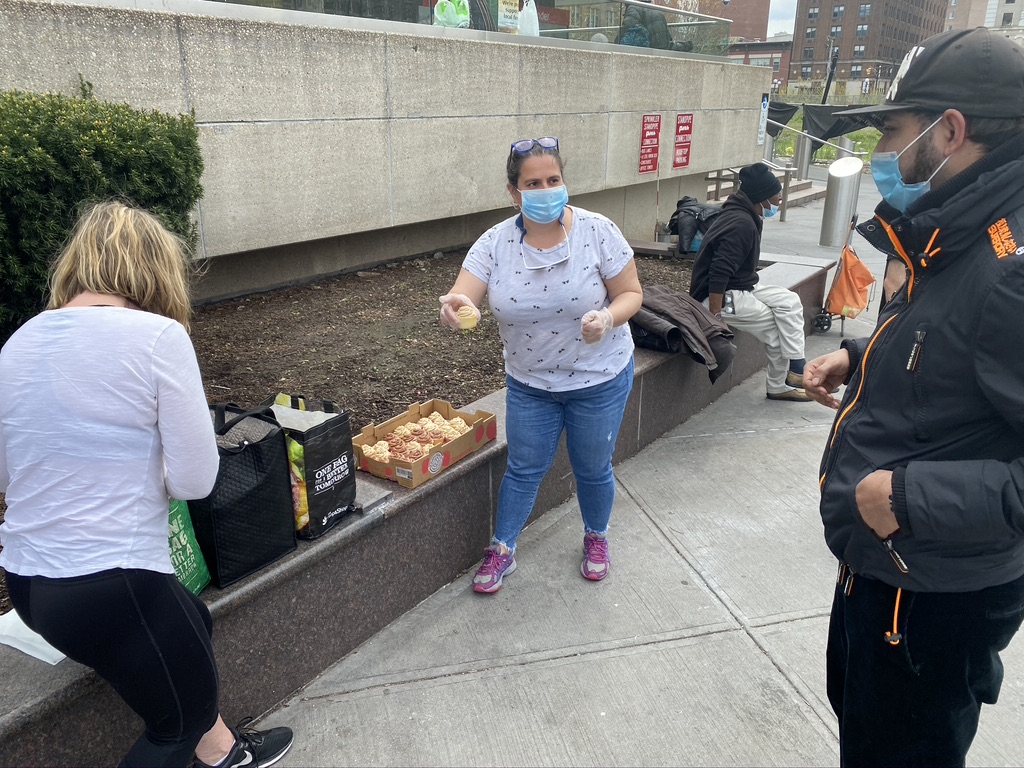 Michele was handing out the main course along with a piece of bread and a spoon, and I handed out the cupcakes. The people were polite, grateful, friendly and patient for the most part. We apologized to those who came back for seconds, explaining we wanted to make sure everybody is getting a meal, and their reaction was nothing but understanding and appreciating. I felt that the simple acts of acknowledgment and interest in them, like asking for their names and introducing ourselves, along with a bit of humor – that made the bridge over our metaphorical and physical social distancing. 
After supplying meals to all the homeless in Journal Square, we still had another dozen meals left. We then drove to Hoboken's train terminal, where we found several other homeless people who were excited by the gesture. We even got a few thumbs up from non-homeless passerbys.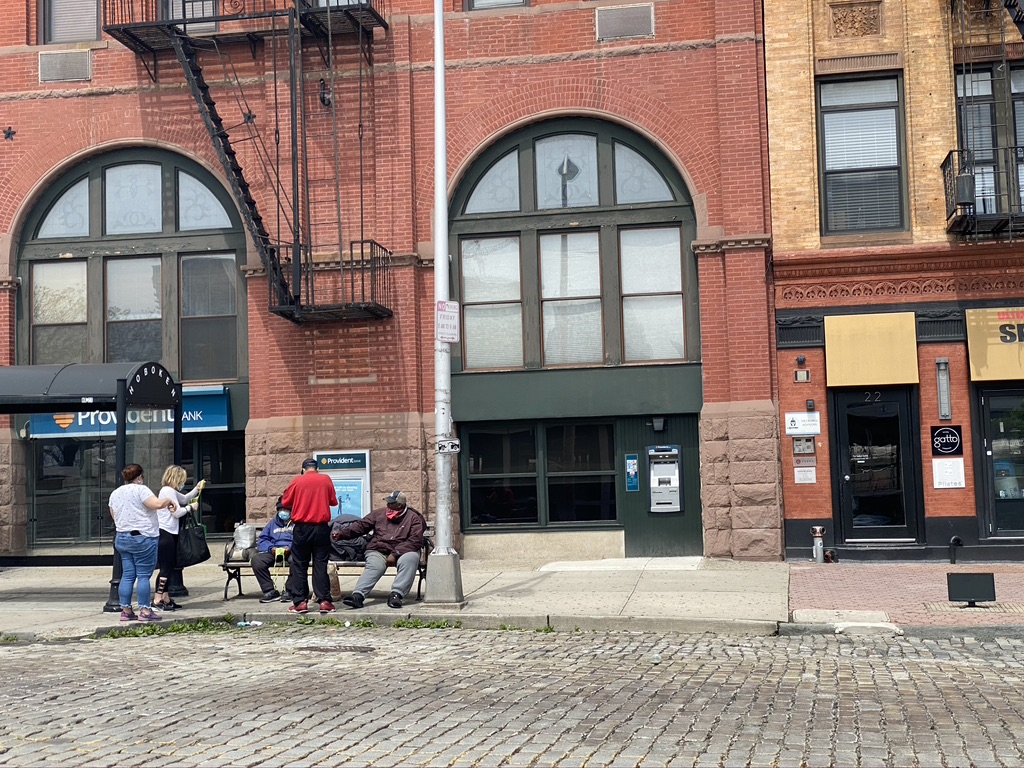 Over the last few days I've been covering this story, I learnt from Michele & Barry that the biggest challenge they are facing is getting the mask supplies. While the Oregon's seniors community is making them in a relatively good pace, it is hard to rely on USPS to get the shipments on time. They also found it hard to get elastic for the masks. To that extent, and in order to enable remote support of their effort, they started a Go Fund Me Campaign to help raise funds to pay for mask making supplies and expedited shipping services. They are also trying to get more local mask makers, who they are hoping to be able to pick up ready made masks from. 
Interested in getting involved and contributing to this effort? Here are ways you can do so:
Donate elastic and fabrics for mask making

Any connection to postal or shipping services that can provide a quick delivery to Jersey City – as shipments from Oregon seem to take way too long….

Donate money through

Go Fund Me

Of course, any food donations from individuals or restaurants are welcome! 
If you are interested in helping out or have any contacts who might be helpful – please contact Michele at: michelewiemer@gmail.com