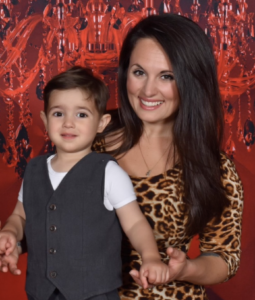 Erika Monet Butters' 'Melodies At Sea' may soon be a Covid-19 memory after 56 days, if all goes according to plan.  Erika and her two year old son, Ezra, are scheduled to depart the Emerald Princess this weekend, just in time for Mother's Day! With some discretion of proper social distancing,  Key West awaits a glorious family reunion.  Erika keeps her fingers crossed that she will be allowed to disembark.  As we post this article, Emerald Princess is steaming at 11.5 knots due west toward Fort Lauderdale.
SOUNDING OF THE SHIP HORNS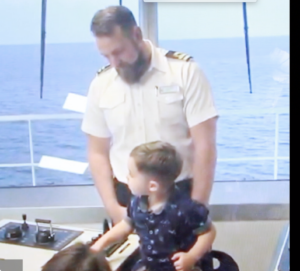 At 7:30pm every evening, the ensemble of ships would all blast a shared sentiment, announcing "We're all in this together"!  Then the sunset would arrive with a glorious view.  Erika always welcomed it as its awesome beauty calmed her nerves.  She made it her mission to foster a sense of renewal every day.  Thinking of how the rest of the world was spending their days, Erika is grateful that her social distancing experience might realistically have been a lot different back in Florida.  In some ways, she's grateful for winding up in a healthy, clean environment for the past six weeks.
BREAKING IRREGULAR AQUATIC PATTERNS
But there are others who are still left floating on an uncertain future.   Chaos in the Cruise Industry pretty much sums up what is going on in Covid waters.  Earlier this week, Norwegian Cruise Lines (NCL) was forced to secure a two billion dollar loan to carry them into the Fall Season.   Ninety-nine cruise ships that terminated operations while sailing routes in North and South America anchored in a triangular zone between Fort Lauderdale and the Bahamas.  However, the eerie ring of idle ships slowly breaks formation as Repatriation efforts continue.  In total, 80,000 crew members were reportedly stuck at sea,  approximately 1000 of them U.S. citizens.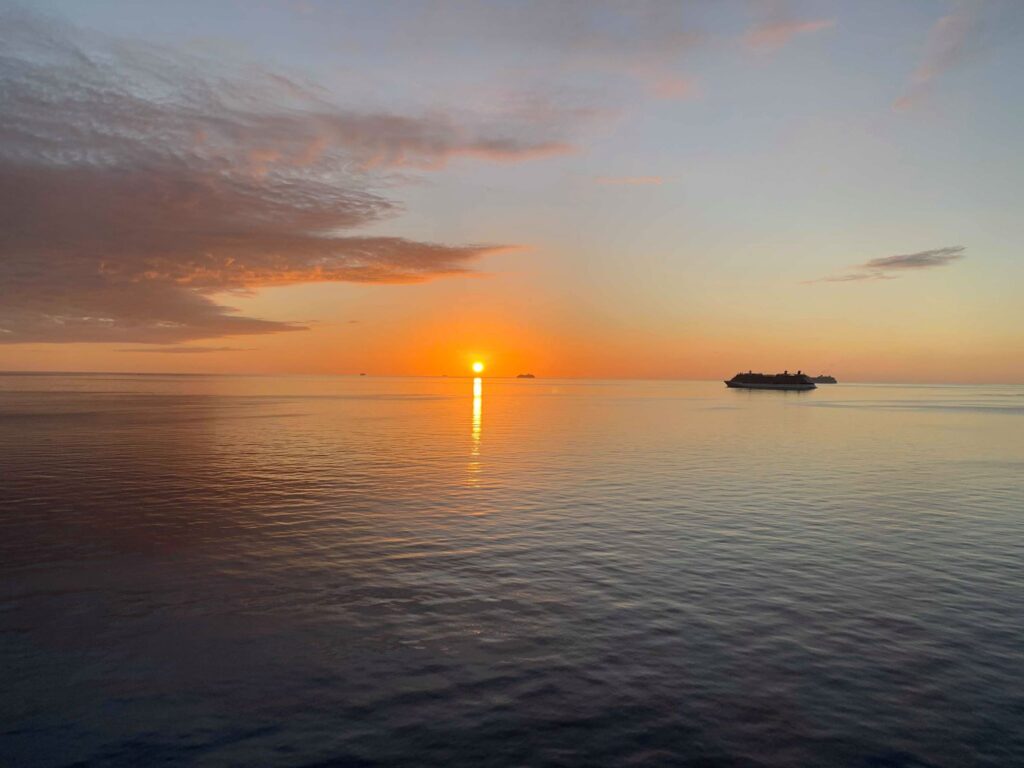 ENTANGLED  CONNECTIONS
The aquatic dance continues as crew members move from one ship to another in the middle of the ocean.  Erika was originally on board Holland America Lines' Nieuw Statendam with her husband who serves on the bridge.  NYHC reported the situation back on April  22nd.   Crew, like the corporate negotiations between the liners and the CDC, were going in circles.   We learned of harrowing stories posted on social media on personal pages.  Charter flights and private shuttles were purchased and paid for by the excited crew.  As ships pulled alongside the dock, hopes were suddenly dashed when officials withdraw their offer.  Erika watched as several Canadians serving aboard Empire Princess were denied exit. These poor souls could only stare at the lowered gangplanks and watch another routine refueling as rations were loaded onboard before the ship pulled up their lines and slowly returned to anchor once again.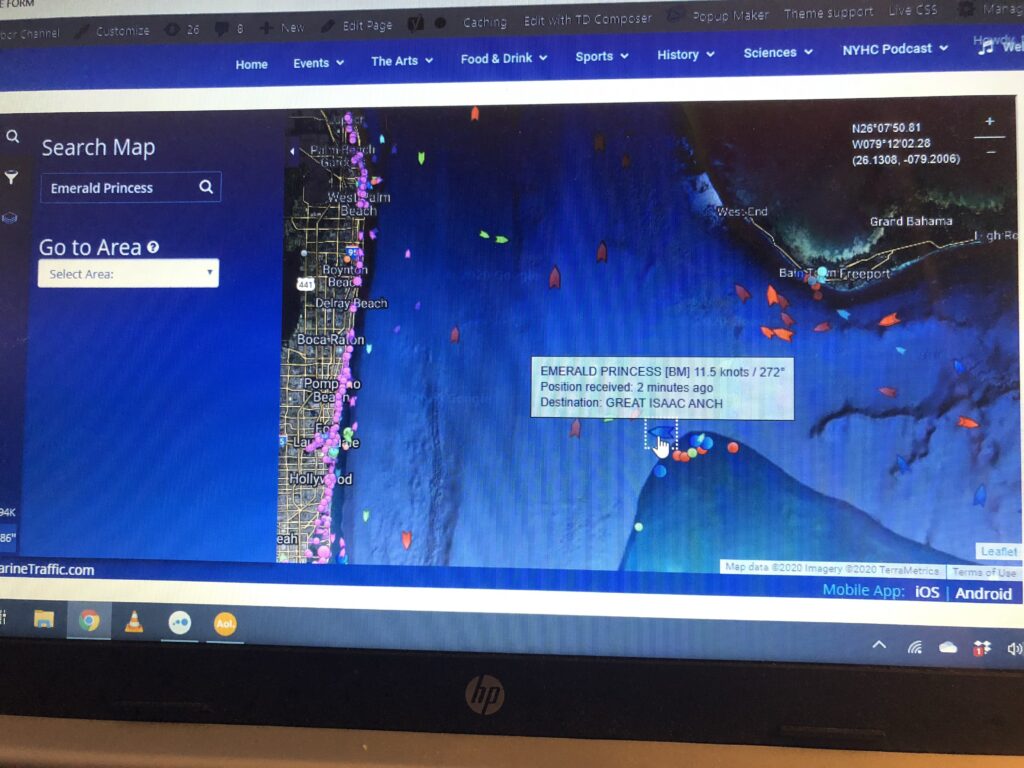 On Day 50, Erika offered a parody that pleaded to government officials to hear the ships cry.  She used Moana's "How Far I'll Go" and changed the lyrics to her own rendition that she titled "Song To America: We Want To Come Home" which sheds light on the crew all being healthy and just wanting to get home to their loved ones.  But the legal struggle between the cruise industry and the CDC continues, mostly in court proceedings in Miami.  It is inconceivable to ask these U.S. Citizens to remain captive aboard ships for the entire duration of the U.S. 'No Sail" order.
U.S. PORTS AWAIT THE RETURN TO NORMALCY
Back on the U.S. eastern seaboard, NCL has made arrangements to dock three ships in Norfolk Harbor for the next two months.  As far as we know, the American crew aboard are still prohibited from disembarking.  Meanwhile, here in New York, NYHC reports not a single ship returning to port.  The last spotting was February 10th when Coronavirus-tested passengers were allowed to board RCCL's Anthem of the Sea at Cape Liberty Marine Terminal.   The only ship to visit New York's waterfront was the USNS Comfort, the Navy Hospital Ship that we covered extensively during the month of April.
MELODIES AT SEA:   ERIKA AND EZRA'S FAREWELL SEGMENT
When asked about returning to the sea, her response was "I am not jaded!  The ships did take good care of us."  And how will her music continue?  She indicated that Melodies At Sea will have an easy transition into an anticipated weekly series with a temporary working title of "Melodies On Land'.
Erika's final post from sea will be "Time to Say Goodbye" by Andrea Bocelli and Sarah Brightman.  She and the others awaiting departure tomorrow, are saying their final farewell as their ship was finally approved to disembark after what will be 56 days out at sea.  How will history look back at this imposed marooning of crew?    We would like to think Erika's soothing vocals eased the tension back in Miami.  Dry land is afoot!