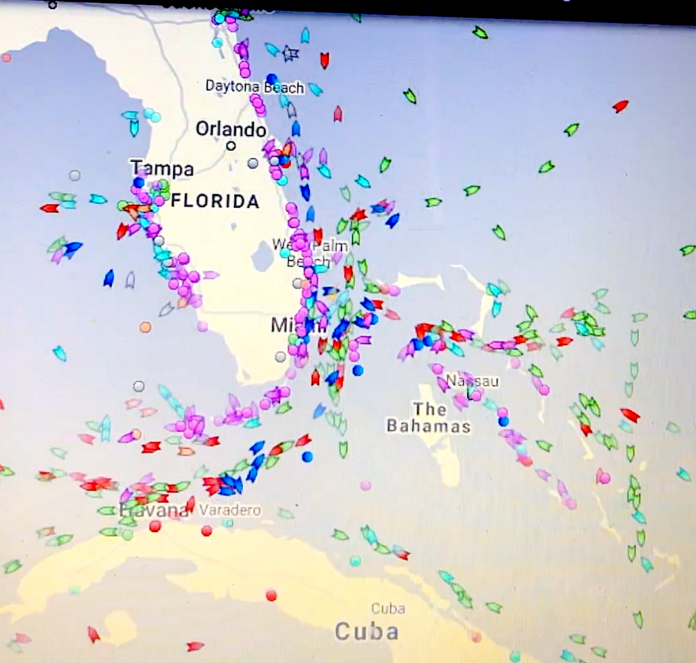 PRELUDE
As Spring arrives, New York Harbor marine terminals, ferry landings, and tour boats are closed tight.  Walking along the waterfront is a pastime that usually signals outdoor recreation activity.  Kayaking, sailing, and cruising are all signs of a budding season.  Street musicians usually fill the parks,  But now, the 'Stay at Home" order has defined the arrival of Spring, 2020.
What a difference eight weeks can make.  Our January 20th post of 'Music On The Water' celebrated the beauty and accomplishment of Holland America Line's Lincoln Center Stage aboard the MS Nieuw Statendam.  Music of any description has been a definition of New York City's energy and creativity.  Indeed RWS Entertainment generates the source of greatness found on the dozen of HAL's Music Walks.  Our countdown clock started marking the days till MS Zaandam would arrive in New York Harbor on its way to Canada on September 7th,2020.  We were hoping to capture the sounds of its ensemble to herald the event.  Little did we know the true impact that was brewing the week we posted the article.  Now we know.  This is the new normal.
CRUISE SHIPS AFFECTED BY GLOBAL PANDEMIC
The global pandemic has shut down port entry to every harbor city in the United States.  The Center for Disease Control (CDC) witnessed the last cruise ship to discharge infected passengers as well as remove those who died from Holland America Line's (HAL) Zaandam two weeks ago in Fort Lauderdale, Florida.  The industry lock down had begun.
This was the end of a three month long horrific odyssey for more than two dozen cruise ships, starting with the first case of Covid-19 fatalities on the Diamond Princess in Japanese waters.  Helicopter airlifts of medical supplies and emergency equipment became a daily scene on the news channels, but what must have been worse to those was the sight of intensive care unit patients being medivacked off the ship.
CDC ORDERS A ONE HUNDRED DAY 'NO SAIL'
The CDC reported that approximately one hundred cruise ships were outside U.S. ports.  Approximately eighty thousand crew members were still aboard.  Crew members including ship physicians who treated infected passengers were part of those who perished from the virus.  On April 9th, the CDC put a one hundred day 'No Sail' order into place that was effective immediately.  New York Harbor marine terminals are completely empty.
UNPRECEDENTED ANCHORAGE
Cruise ships such as Royal Caribbean's Anthem of the Seas will not return to its' home port until July at best.  So where did the ships go?  According to Marine Tracker, the global GPS app that identifies ships at sea, Anthem has joined a ghostly anchorage of more than two dozen liners that dot the ocean waters in an unprecedented configuration pattern from the Bahamas to Florida.
Our video taken on April 11th shows the incredible number of moored cruise ships that made up the historic assembly.  Under normal conditions, the temporary anchorage is called a "warm lay-up" mode.   Of note, is an eerie ring of HAL ships comprised of the MS MS Nieuw Statendam, MS Nieuw Amsterdam, MS Zuiderdam, MS Zaandam and the MS Rotterdam.  It's shocking to see, since these ships were once riveting with excitement and pleasure and now they are sitting idle waiting in limbo.
MAROONED
Once moored, engineers and maintenance employees implemented a complete disinfecting regiment while the ships silently rest idle.  But what about the crew still stuck on the ship?  Why are they still aboard?
A catch-22 forced most of them to remain.  When Zaandam was finally allowed to offload in Fort Lauderdale, many crew members had a tough decision to make.  They could break their contract and possibly loose employment with Holland America, or they could ride out the term of the contract to ensure their option of a renewal.  Most only had nine days left and gambled they would quickly find travel arrangements back home.
The greatest majority of crew are Filipino or Indonesian; however, a small minority are American.  Within days of leaving Fort Lauderdale, these U.S. citizens learned the severity of the 'No Sail' order and what it meant to them.  The U.S. Coast Guard stated that anyone left aboard these ships would not be allowed entry or access to any U.S. port in the southern Seventh District for treatment and the responsibility for care would be left to the ship's operators.  Would it come as a surprise that there are reports of complaints of covid-19 symptoms?  The tragedy of MS Zaandam is too horrific to describe with four dying on the ship before passage was granted through the Panama Canal.
There Americans cannot return to their home states.  They remain on the boat until an alternative plan can overcome this regulation.  To every extent of the word, they are 'marooned'.  According to the FreeDictionary, marooned means, 'To abandon or isolate with little hope of ready rescue or escape'.
Most crew have been restricted to less than an eight square meter cabin with no  window.  For the few hours they spend above deck, the ship is relatively empty with all services and amenities shut down.  The remaining kitchen staff is forced to ration food as there is no guarantee of food being delivered to the ship.
Bedsheets cover tables and chairs.  The casino is dark.  For a morale boost, the pool remains open.  Now that the HAL contracts expired this week, most of the crew is now jobless with future prospects unknown.
CREW MEMBER STORIES OF THEIR PAST MONTH'S MEMORIES MEMORIALIZED
Not unlike those of us in New York City who observe and adhere to the "stay at home" order, crew members have taken to social media to communicate and correspond with their loved ones and the outside world.
There are cabaret singers and dancers on MS Volendam.  Erika Monet Butters, singer on MS Nieuw Statendam is spending her days on the ship continuing to do what she loves through Facebook. She uses this outlet to continue to stay connected with others. Resorting to her performing roots, she posts daily "Melodies at Sea" videos where she sings different songs each day. It's reassuring to see music on the water continuing on during this pandemic. We're sure, Butter's will continue to post daily videos to entertain her viewers, until she has a live audience once again.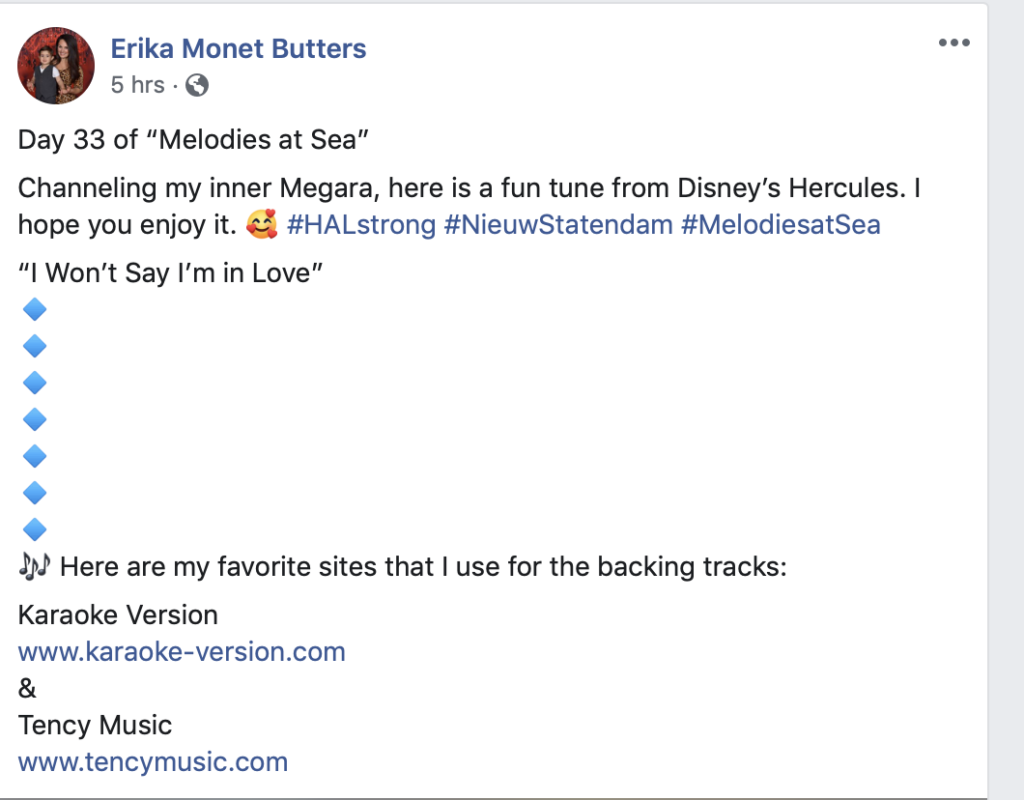 Day 33 of "Melodies at Sea"Channeling my inner Megara, here is a fun tune from Disney's Hercules. I hope you enjoy it. ? #HALstrong #NieuwStatendam #MelodiesatSea "I Won't Say I'm in Love"???????? Here are my favorite sites that I use for the backing tracks:Karaoke Version www.karaoke-version.com &Tency Musicwww.tencymusic.com

Posted by Erika Monet Butters on Tuesday, April 21, 2020
Holland America Line has taken to Facebook also.  In hopes of keeping the music alive, they are posting members of Lincoln Center Stage performing from living rooms.  It is called HAL At Home and the performers offer their recent contributions through videos of solo work or duets.
MASSIVE REPATRIATION OF CREW MEMBERS TO THEIR HOME COUNTRIES.
This week, it was announced that HAL will sail a few of their ships to Europe, Asia, Australia, and Africa to deliver their employees back home.  The Bahama ring of moored ships has broken.  MS Zuiderdam and MS Zaandam are under way and presently due east of Fort Lauderdale.  Will the U.S. authorities grant an exception?  The Governor of Florida has allowed its beach-going population to return to the sea.  Perhaps the American crew members will be allowed disembarkation in Florida?
MS ZAANDAM COUNTDOWN CLOCK FOR NYC
New York Harbor Channel will keep its fingers crossed that MS Zaandam will be able to keep the September 7th, 2020 arrival date into New York Harbor.  We will keep all of you posted on every update.  Until then, we hope the ships safely return the crew members home and music will once again fill the streets and venues of New York City in time for Autumn.