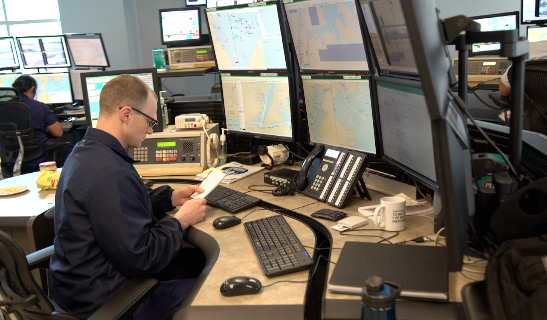 New York City prepares for its' 32nd annual Fleet Week Celebration.  So who is on watch while New Yorkers watch the Parade of Ships enter New York Harbor?  The U.S. Coast Guard Command Center on Staten Island is tasked with 24/7 observation, monitoring, communication, and tactical readiness.
Our team was escorted through the gates of Coast Guard Sector New York by PA3 John Hightower to a simple brick building that sits nondescript on the base under the shadow of the Verrazano Bridge.  However, once inside, two rooms are lined with impressive computer stations whose screens fill with web-cam live-streams, Global Positioning Systems, and nautical charts.  We were introduced to Greg Hitchen, Vessel Traffic Service Director for the Command Center.  He is in charge of the crew that controls all ship traffic in and out of the Port of New York and New Jersey.
Also in the room was Lieutenant Junior Grade Anna LaMacchio who told us offshore ship boardings are rare, however, response time is of the essence.  Unbeknownst to the average New Yorker, ship engine failures, collisions, groundings, and oil spills occur on a regular basis.  The commercial shipping lanes that cross the New York Bight are among the busiest in the world.
Of course the Coast Guard is known for its highly technical search and rescue (SAR) operations that often deploy cutters and helicopters.  Coast Guard divers are trained for any situation on or under the water.  Lieutenant LaMacchio informed us that drones are becoming a useful tool to help inspect sites to assess response.  USCG does not own or operate drones at this time and they rely on New York State Department of Environmental Conservation (NYSDEC) to perform the overfly.  Recently, drone surveillance was required for an oil spill at the Governor Mario M. Cuomo Bridge project at the Tappan Zee.
Within New York Harbor, local marine contracting companies work closely with the Coast Guard when it comes to commercial or privately owned vessels that experience emergencies.  Gadi Zofi of Ken's Marine Service in Bayonne, New Jersey operates a fleet of tugs, crane barges, rapid response craft, and containment materials.  It is not uncommon for Gadi to grab his scuba gear if underwater repair is called for.
Lieutenant LaMacchio tells us that the Coast Guard has a long-standing relationship with the National Oceanographic and Atmospheric Administration (N.O.A.A.), especially when ocean mammals are detected.  Whales in shipping lanes are especially sensitive as commercial ship captains are required to follow NOAA speed regulations, reportings, and logged observations.    Ocean mammal detection buoys and gliders now aid the Coast Guard's efforts in reducing the number of whale related ship strikes.
The Command Center is responsible to establish 'safety zones' even when it involves their own vessels.  Pictured below are the three USCG vessels included in the Fleet Week Parade of Ships that will take place on Thursday, May 23rd.  They are the Cutters Lawrence O. Lawson from Cape May, New Jersey and the Campbell from Kittery, Maine and the local Buoy Tender, Katherine Walker. from right here in Bayonne, New Jersey.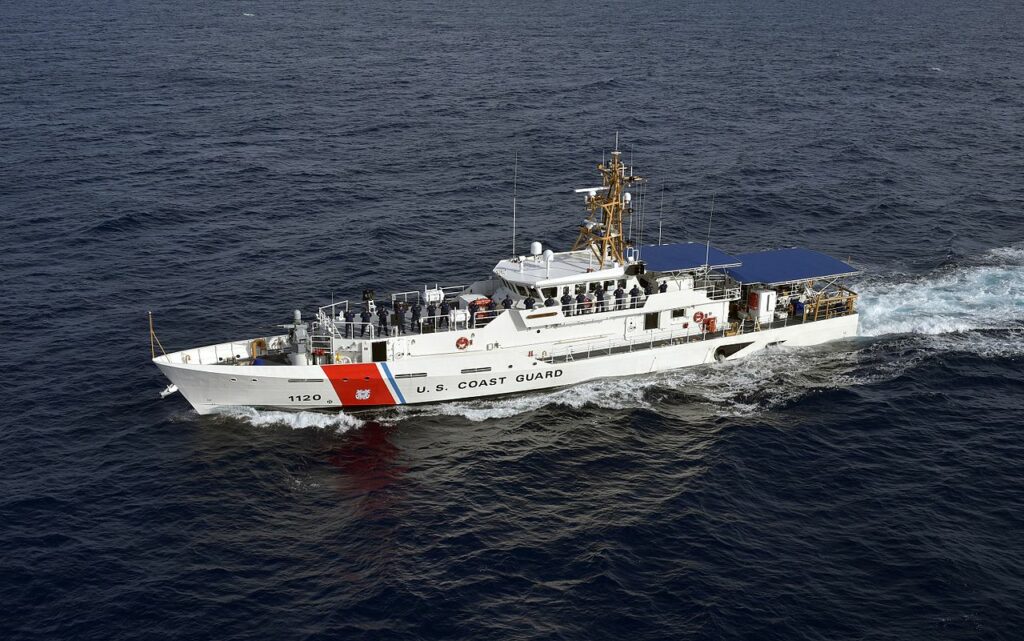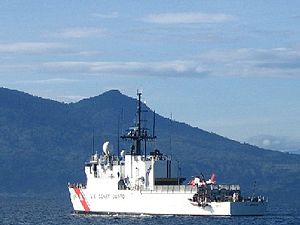 New York Harbor Channel captured highlights from the 2018 New York Fleet Week.  Share the reporting, the commentary, and the interviews!