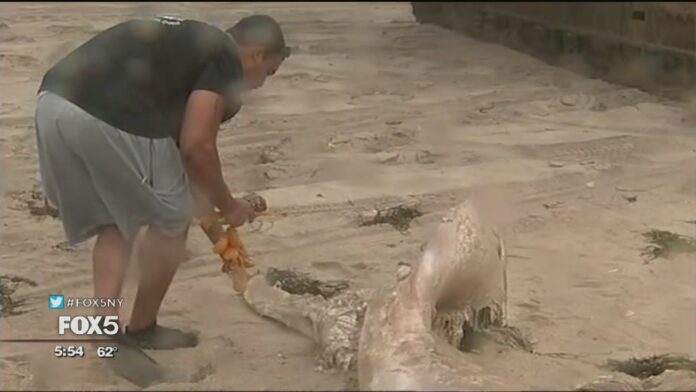 Photo Credited to: PETER FACINI, Fox 5 News Managing Editor
This week, Long Island had its first whale casualty for the year.  Shane Weeks, a member of the Shinnecock Nation Indian Tribe of Eastern Long Island, performed the whale memorial ceremony before the marine scientists removed the 37 foot Humpback whale to perform the necroposy to determine the probable cause of death.
Shane beat his turtle shell rattle and sang a prayer to honor the spirit of the animal and gave thanks to the Great Spirit for its creation.  He then spread dried sage in a clamshell and circled the whale.  Shane and his ancestors have performed this ritual for more than 1000 years.
He fears a ship strike was the cause of death.  He has personally performed many whale memorial ceremonies from Queens to Montauk.  "They are like young deer that do not know how to cross the road."
View The Fox 5 News Coverage Video
This week also brought another whale carcass onto a beach in Massachusetts.  The Cape Cod Humpback has been a local since first identified in 1984.  Her name was 'Vector'.  She measured 45 feet in length and weighed 40 tons.  A necropsy is presently being conducted.