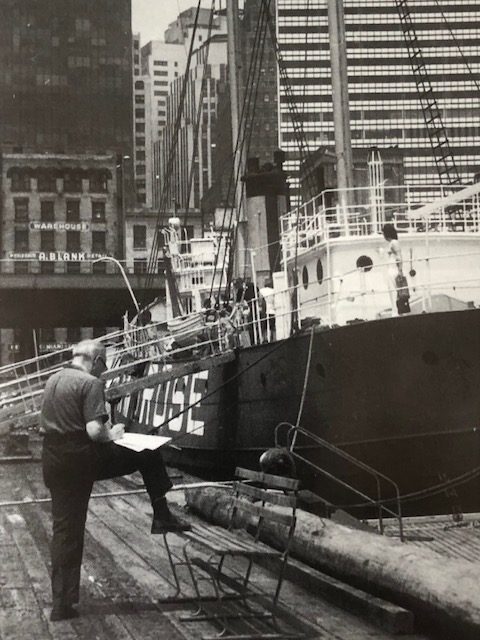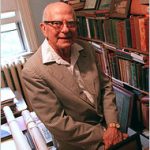 There is a lot of history to fill the waters of the five boroughs, but one man epitomizes the spirit of
New York Harbor
.  His name was
Francis Osborn Braynard
.  After attending Duke University, Braynard began his lifelong interest in maritime history.  His first book, 'Lives of the Liners', was published in 1947, stamping his mark as the America's renowned authority. He intimately knew every steamship of every Cruise Line that tied-up on the docks.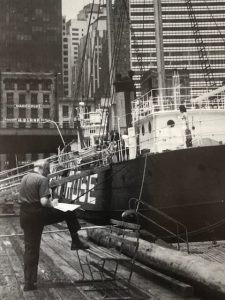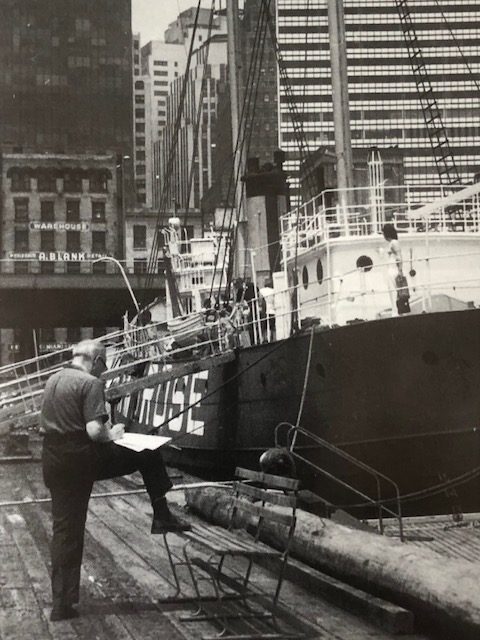 Braynard championed many causes to save landmark buildings and piers along the New York waterfront, including Manhattan's
South Street Seaport
.
In 1976, Frank Braynard created a spectacle that has never been surpassed in New York maritime history.  Braynard approached the legendary newsman, Walter Cronkite, with an extraordinary idea. Why not celebrate the nation's Bicentennial Celebration with an assembly of sixteen Tall Ships from countries around the world.  The event was called 'Operation Sail'.The colorful sailing ships tacked under review by President Gerald Ford in addition to fifty international warships.  Braynard was credited with resurrecting the long-standing tradition of holding an International Naval Review; however, the crowning achievement was his visit to Moscow where he met leaders of the Soviet Union and convinced them to send their prized 'Czarina of the Sea' to U.S. shores.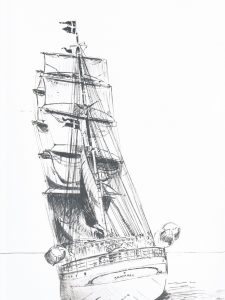 This was not Braynard's first public marine extravaganza.  With the blessing of President John F. Kennedy back in 1961, Braynard and Nils Hansell organized plans for a New York harbor celebration.  President Kennedy never lived to see his vision come to life.  A modest display took place in 1964 and it was called the World's Fair Parade of Ships to coincide with the New York World's Fair that year in Flushing Meadows, Queens.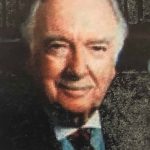 So, a dozen years later, the 1976 'OpSail' program captivated the nation.  Cronkite was not only the long-time anchor of the CBS-TV Nightly News, he was a sailor.  Braynard stood beside presidents, prime ministers, and kings while on his passionate global quest of the tall ships.  More than six million spectators packed the harbor shoreline to watch Braynard's 'brotherhood of the sea'.  As the event unfolded on television sets across America and around the world on that warm, sun-filled day of July 4th, 1976, the globe witnessed Cronkite host the festivities.  The Bicentennial broadcast was ranked as one of the most watched programs of the decade.
'OpSail' became a regular event that grew to include other international harbors that participated in subsequent years.  During a tribute to Frank in 2006, Walter Cronkite, offered these words, "I would like to take this opportunity to thank Frank Braynard for his many years of commitment and contribution to improving and sustaining the beauty and significance of New York harbor".
Appreciating the South Street Seaport
On a personal note, I met Frank in 2006.  He, alongside his wife Doris, welcomed me into his home in Glen Head on Long Island.  The volumes of books handsomely filled wooden bookshelves and model ships were encased everywhere.  But it was his pen and ink drawings that took my breath away.  He was an artist and most proud to turn the pages of his sketchbook to describe historic sailing vessels in grand detail.  In this way, I will always be grateful to have been a student as Frank was able to tell the stories of international maritime history in this way. It is such an honor to meet a man who made such an impact on New York Harbor and the South Street Seaport.
Frank Braynard died in 2007.  The last 'OpSail' took place in New York harbor in 2012.  The 'Harbor of Dreams' lives on.