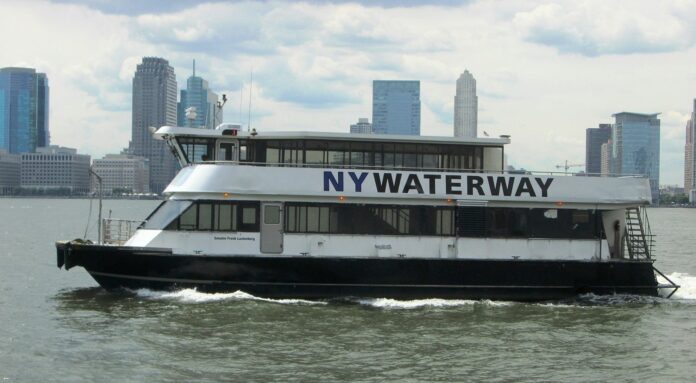 Monday morning found New Jersey ferry commuters without service as they scrambled to access alternative rail or bus transportation to and from Manhattan.  The United States Coast Guard performed inspections on the New York Waterway fleet.  Twenty three ferries were determined to be in violation of fire safety and emergency equipment devices.  As of this morning, only two New York Waterway ferries were deemed to be in compliance.
New York Waterway started service crossing the Hudson River in 1986.  It's founder was Arthur E. Imperatore and the family continues to run the company today from its headquarters at Port Imperial in Weehawken, N.J.  Ferry service in New York Harbor has quickly grown to be a reliable transportation option.
There are nine ferry operators that run designated routes around the harbor.  The Staten Island Ferry is the oldest and largest in passenger volume serving twenty five million riders a year.  As New York Waterway maintains a fleet that runs routes primarily from New Jersey to Manhattan it is rivaled by the Hornblower organization operating twenty seven vessels under the NYC Ferry banner on the East Side of Manhattan connecting Brooklyn, Queens, and the Bronx to its main hub at Pier 11 on Wall Street.  Hornblower aggregate ridership data indicates approximately two hundred thousand passengers a week.
Travelers and commuters are encouraged to find the ferry schedules in the NYHC link for up to the minute timetables.