The Sandy Hook Pilot Dispatch office maintains a rotating chart of the approximately fifty seasoned captains.  Tim Ferrie had the turn and was assigned the USNS Comfort boarding.
Due to the size and depth of the USNS Comfort, US Navy Meteorologists and Oceanographers prepared the weather forecast and the underwater topographic maps.  Logistics were already in motion well before the ship's departure from Norfolk Naval Operations Base.
Back in New York Harbor, Donjon Marine, a local dredging company, was permitted to deepen the harbor for safe transit and docking at Pier 90 Manhattan Cruise Terminal.
Monday morning, the Sandy Hook Launch was waiting.  Captain Tim Ferrie was on board. He cautiously ascended 'Jacob's Ladder' at the Ambrose Station meeting point in the New York Bight.
The Sandy Hook pilot delivers the Flag of New York State that was unfurled above the Comfort as it entered New York Harbor.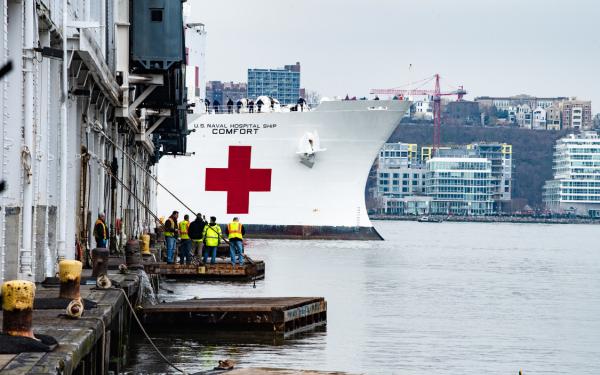 At the helm of USNS Comfort, alongside Commander Patrick Amersbach and Captain Andrew Lindey, Tim Ferrie wore his mask in the face of COVID-19 precaution.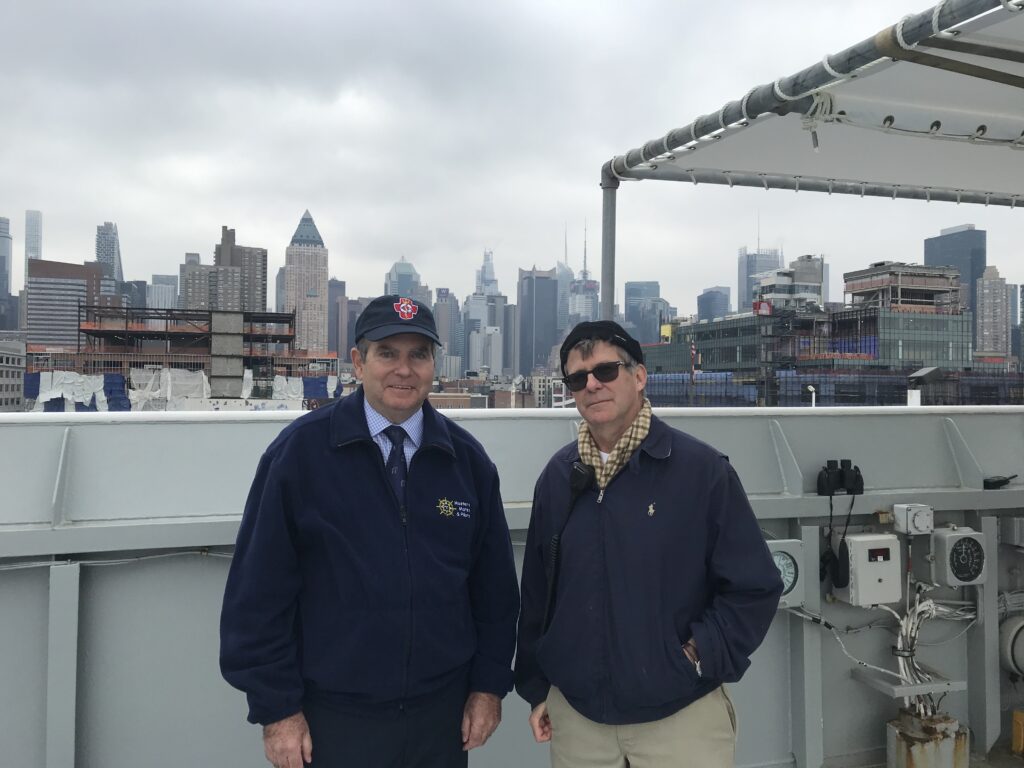 A salute from the New York Harbor flotilla accompanied the hospital ship up the Hudson River into Berth 4 of the Marine Terminal.
The configuration of the Navy Hospital ship was not unfamiliar to Captain Ferrie. Both USNS Comfort and USNS Mercy are converted super-tankers. Similar specifications to many other tankers that a routinely enter New York Harbor carrying oil. This was another delivery in the hundreds of deliveries the Sandy Hook pilots make every day and every night.
Captain Ferrie was presented with the traditional Navy Challenge Coin by Commander Amersbach.  New York Harbor Channel applauds all the members of the Sandy Hook Pilot Association.