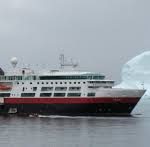 The philosophy of the Hurtigruten Cruise Lines is for its passengers to truly experience the natural beauty of their destinations. The more remote, the better! Outdoor expeditions are an integral part of the Hurtigruten fleet. Not only by boat, but by foot! Snowshoeing on Arctic ice is certainly encouraged. Sport, fitness, and good living is in abundance.
The more I researched, the more obvious it became that the voyages through the scenic fjords of the Norway Coastline might be the least demanding. There is a higher caliber for the healthier world traveler. I became interested in the Svalbard in the High North.

We are not only talking Northern Lights and the Midnight Sun! Here is Hurtigruten's advertisement blurb…."The gem of Arctic Norway is fascinating and challenging. Polar Bears roam the wilderness, seals dive, and birds swoop. Longyearbyen snuggles up and hunkers down against the cold Arctic air, just 840 miles from the North Pole."  My heart just skipped a beat! I have no doubt even the calmest voyage will offer snowmobiling in the middle of July.
The modern Hurtigruten fleet consist of 14 exploration vessels. These ships are designed  for polar expeditions. As MS Fram entered New York Harbor last week, I knew there was something special about the construction. It was magnificent in its sturdy appeal. The strength and beauty of the ship was unmistakable. It actually felt like it just pulled in from the Arctic, leaving a few chunks of ice off its stern.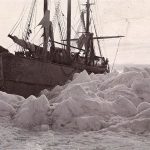 For those in the know about Norwegian history, Roald Amundsen is credited with being the first man to reach the South Pole. He was the last of the three Norwegian explorers whose successive expeditions to the Arctic and Antarctica were aboard the original MS Fram, the trusted, wooden schooner built in 1893. Amundsen's voyage to Antarctica started in 1910 and lasted three years.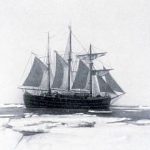 The explorers knew the safest way to travel to the Poles was to purposely allow the ship to be frozen in the ice. Being one with the moving ice shelf, the ship would float up over the Pole. The original MS Fram was built with no keel and extremely hard Greenheart wood to withstand the force of pressing ice. Surprisingly, Greenheart isn't from the forests of Norway. This untreated lumber hailed from the Venezuela forests of South America as it is resistant to water rot. The width of the hull was exaggerated to allow the ship to lift up on the encroaching ice sheets.
If you are planning a trip to Norway, this 125 year old wooden schooner has its own museum in Oslo. Btw… Fram means "forward" in Norwegian. Like Amundsen's schooner, The Hurtigruten Company is also celebrating its 125th year in business. The first ship was a steamer that cruised the coast of Norway. Hurtigruten is now the largest cruise operator in polar waters.
How reliable are these ships in such extreme climate? Truth be told, Antarctica has proven to be a challenge. In December, 2007, three hundred explorers were on board MS Fram. Leaving the tip of Argentina, MS Fram powered through the Drake Passage. Here are some accounts of the following days…
"In its most turbulent seas, it is referred to the Drake Shake. Othertimes, on serene days, it is referred to as Drake Lake!"
"Imagine spending a night on the ice shelf of Antarctica camping out in a tent!"
"One of the most beautiful passages in Antarctica is the Lemaire Channel. Talk about a photo-op. The wildlife and sea creatures were amazing!"
"December 29th, 2007, just six months after being christened, on the fourth night, the ship engine temporarily lost power. All the passengers were summoned above deck. In the cold, silent, stillness, the ship drifted backward."
"I actually saw the wall of the ice coming up the starboard side."
"Yes, we kissed an iceberg!"
"Within forty minutes, the engine was running again. Aside from minor damage to the railing and one of the suspended life rafts, MS Fram has been back to Antarctica on its regular itineraries."
"This company is rugged, sea-worthy, and very competent. I am ready for another adventure on any of their exploration ships!"
The current MS Fram is configured for 400 passengers. Well appointed staterooms support ample amenities. There's plenty of good times over good food and drink. Attendance to the on-board lecture series are encouraged if you are not busy working out in the gym. This year, Hurtigruten announced the banning of plastics aboard all ships. All bio-degradable materials The company's commitment to the environment includes operating the first hybrid-electric powered ship, the MS Roald Amundsen. "Plastic pollution is the single biggest threat to our oceans." said Daniel Skeldam, Hurtigruten's CEO. He continued, "We are committed to be a global leader in green adventure travel."
"MS Fram is presently taking a well deserved vacation en route to Port Everglades with lots of warmth and sunshine. The only ice is in my tumbler!"