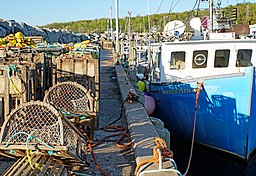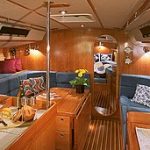 New glass technology is always welcome for marine craft builders.  According to Glen Greenberg, Chief Technologist at
Glass Technology Consultants, LLC., interior and exterior applications are now available on the market.  Here are three hot sellers that are popping up on the water.
Westport Yacht of Fort Lauderdale, Florida is incorporating interior Switchable Privacy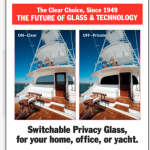 Glass into its designs eliminating the need for bulky, if not dangerous, swinging doors, shades, or fabrics in cabin space.  The switchable glass modes toggle from clear to opaque, giving passengers complete privacy and offering a full range of options in already tight cabin space.  The glass is available in any color of the spectrum.
Sun glare has always created dangerous situations for mariners.  To tackle the problem, a new concept called Variable Tint Glass electronically changes the glass composition of the windshield.  Aside from windshield applications, sun and shade control is useful in all cabin environments.  Bayless Boatworks of Wanchese, North Carolina is presently utilizing Variable Tint Glass for their models to offer sun control and shading.  It's nice to think that sunglasses are no longer required behind the wheel.
Wiper blades may still be necessary, but clear glass always makes for better vision.  Radiant Heat Glass technology eliminates rain, snow, ice, water vapor, and condensation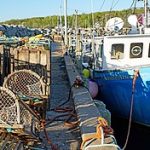 using a clear microscopic metal coating.  
In a cold, driving rainstorm, the activated charge eliminates condensation on the glass surface, giving the captain better visibility at the wheel.  
Newer craft from the smallest pleasure craft to mega ocean liners will certainly benefit from these simple upgrades.
Photo By Dennis Jarvis from Halifax, Canada (NS-00535 – Short Season) [CC BY-SA 2.0 (https://creativecommons.org/licenses/by-sa/2.0)], via Wikimedia Commons