The young activist, Greta Thunberg, arrived from Plymouth England by sailboat this past August 28th.  Her 60 foot craft took two weeks to cross the Atlantic on the ocean racing yacht called Malizia II. The crew was assembled and sponsored by the vice-president of the Monaco Yacht Club, Pierre Casiraghi, a member of Monaco's royal family, and co-skippered by Boris Herrmann.  Malizia II used no fuel and was powered by solar panels and an underwater turbine that generated electricity.  It was built for speed and little comfort.  Aside from the large swells, the North Atlantic ocean climate was cooperative, however, Hurricane Dorian was a constant threat as it churned further south in the Bahamas.
2018 EVENTS IN EUROPE
Greta is herself a model of how every citizen of this planet should live and behave.  'Leaving the smallest possible carbon footprint' is her motto. It is no secret that her initiative, #FridaysForFuture, has bolstered student strikes around the world.  She has personally taken the year off from school to accomplish her mission, protesting against inactive and ineffective governments.  Her credentials as a soft-spoken global citizen need no hard copy resume.  She has already sat before the highest level political leaders talking one on one about climate change.
GRETA IS GREETED BY THE UNITED NATIONS' FLOTILLA
Waiting for Malizia II to enter New York Harbor, Greta was greeted by a flotilla of 17 sailboats, each representing one of the 17 "sustainable development goals" established by the U.N. General Assembly.  Captain Nitzan Levy helped organize the colorful event, signaling to the world that the home of the United Nations was ready to embrace every measure to save our planet.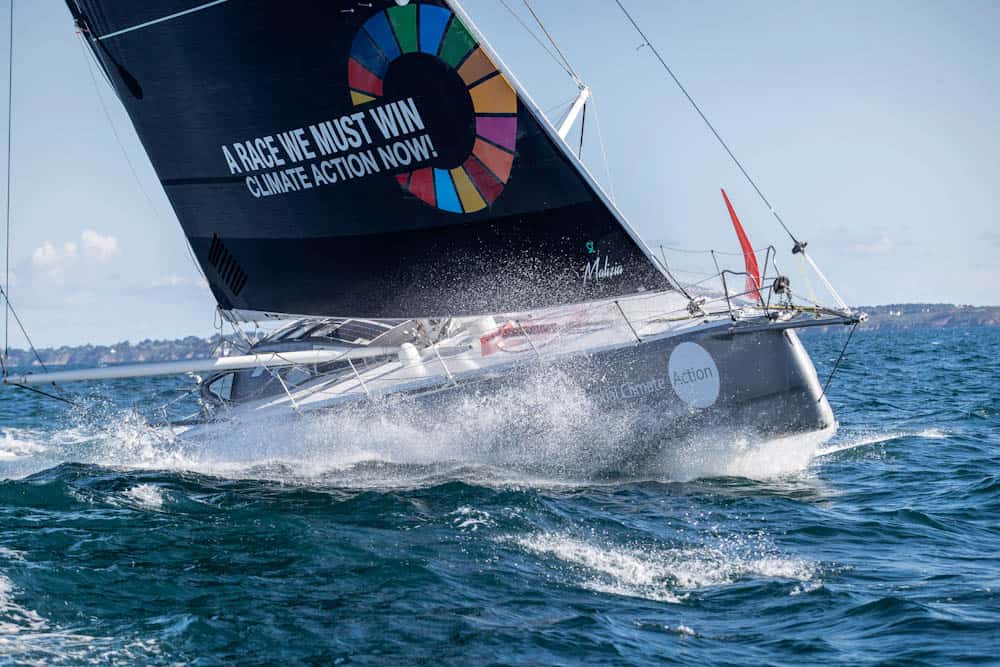 New York Harbor and its proud residents rolled out its welcome mat inviting the global ambassador to our shores.  The various efforts such as the Federal Government's 'Clean Water Act' fifty years ago have proven to curb water pollution and increase public awareness to making New York Harbor a sustainable, healthy, and prolific marine environment.  More recently, smaller initiatives, such as the 'Billion Oyster Project', have also impacted the return of native marine species to New York Harbor.
Earlier this year, Nitzan spoke to NYHC about the cleanliness of New York Harbor for our May 11th Event that celebrated the 200th Birthday of Walt Whitman who we could safely say was Greta's equal in the 19th Century.  Measured by this week's yardstick, Greta will quickly surpass any previous public speaker in popularity.
Wearing a windbreaker bearing the tagline, "Unite Behind The Science", the 16 year old sailor immediately took to the microphone to address the media and raised up her faithful original hand-painted poster that reads "Skolstrejk for Klimatet".   Thunberg's goal is to limit global warming to a maximum 1.5 degree celsius increase.  Curbing greenhouse gases and carbon emissions as outlined in the 2015 Paris climate agreement.  "The window is closing fast" for the earth to avoid an environmental disaster.
GRETA MEETS THE UNITED STATES GOVERNMENT LEADERS IN WASHINGTON, DC
Taking only a few days off to recover from her ocean journey, Greta immediately resumed her schedule to meet with Barrack Obama in his Washington D.C. office.  After the visit, former President Obama affirmed on his twitter page that Greta was 'one of our planet's greatest advocates'.
Thunberg demonstrated in front of the White House and joined other school-age teenagers on the steps of the Supreme Court in Washington D.C. to offer her voice in support of their lawsuit against the government for "climate inaction".  Jamie Margolin, founder of This Is Zero Hour, accuse lawmakers of complicity with corporations who encourage dependancy on fossil fuels.  Greta's success is marked by the incredible number of offshoot organizations created by other teens all around the world.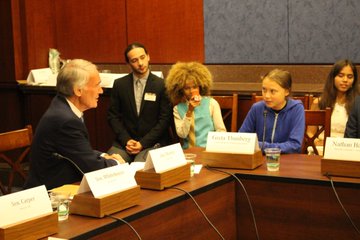 On September 18th, Thunberg continued her mission to meet and address the 'people in power' as she visited Congress and met with Senator Edward Markey, sponsor of the Green New Deal.at a panel discussion. "I don't want you to listen to me, I want you to listen to the scientists!" resounds as one of Greta's cries before lawmakers.  Greta's plea has quickly gained supporters especially after her 2018 speech at the Poland 2018 U.N. conference.  In her native country, Sweden's Parliament is all too familiar with her protests.
Friday, September 20th, Thunberg was back in New York City speaking at a demonstration gathered in front of the Federal Building at Foley Square.  It is now on record this day had the largest turnout of supporters in history with 2,500 groups from 169 countries totaling an estimated four million people.   Regardless of the actual numbers, her influence has sparked a flame among teenagers that will only grow larger moving forward.
THE WEEK OF SEPTEMBER 23RD, 2019 AND ACTIVITIES SURROUNDING THE UNITED NATIONS GENERAL ASSEMBLY
Amina Mohammed, UN Deputy Secretary-General had this to say, "Young people around the world are demanding urgent climate action by all leaders.  They are leading the kind of transformative change needed to drastically reduce carbon emissions to protect our planet and ensure the well being of people.
The UN is proud to host hundreds of young activists and leaders, including Greta, who are answering the Secretary-General's call to bring solutions to the Youth Climate and the Climate Action Summits.  Our individual and collective actions will transform our world, save lives and ensure a life of dignity for all".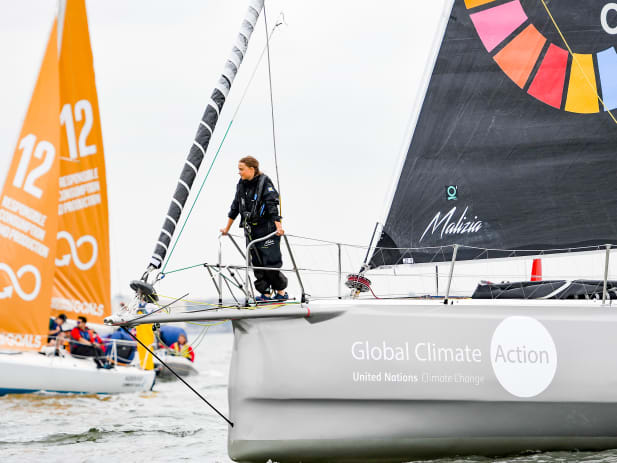 THE FUTURE
Plans for Greta's journey to the next U.N. function in Santiago, Chile this December have not yet been revealed.  Mr. Herrmann has offered his services to get her there by boat.  No doubt, Greta's ride will feature a carbon-neutral vessel, using no fuel unless for an emergency, maximum speed, and cabin accommodations certainly not for comfort.  How she plans to get back home have not been discussed; however, it is safe to assume she will not be flying.