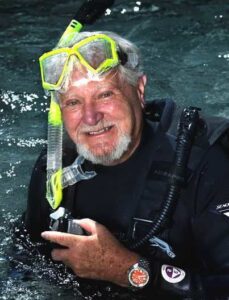 A genuine giant "friend of the sea" and maritime world has passed.  I am celebrating and mourning Clive Cussler's passing. He was ahead of his time before ocean ecology became a "thing."  He investigated old sinking of civil war vessels, fishing boats and other mysteries. Driven by his novels and through high level friends in the NSA he was able to bring hi-tech US Government GPS stuff to his research and hunt for the Civil War Merrimack/Monitor and the Hunley in Hampton Roads, VA, before it was available to the public.  Cussler was an expert about the oceans, seas and those who literally went down to the sea.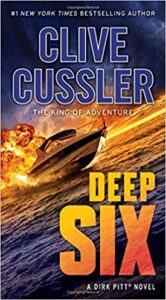 A great novelist. His intensity often misunderstood.  As he was also a brilliant publicist as well.  However, he really knew his stuff.  His colleague, Author & former NSA scientist/researcher, Derrick Goodwin, who later wrote Just Killing Time brought me on board with Clive. Clive was passionate and gracious.  I was honored to work with him briefly.
Clive's inscription on the front page of his 1984 novel, DEEP SIX.
"Jonathan: A super pal who's put up with an old derelict like me.  Many thanks for your friendship and all the super things you've done for me.  Your pal, Clive Cussler." July 1984.
Please visit Jonathan Atkin's websites: