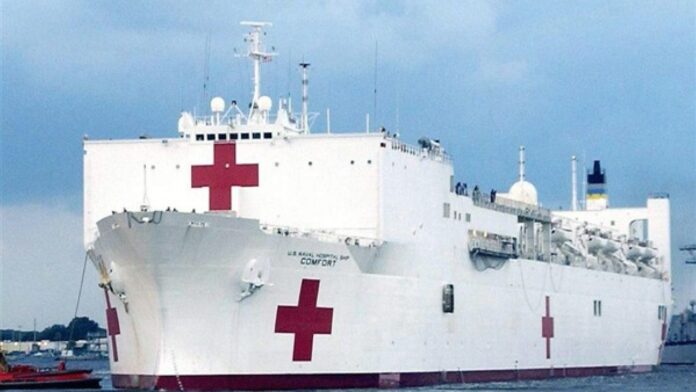 Hospital Ship Deployment
The USNS Comfort will be making its way to New York Harbor in order to help control the influx of crowded hospitals due to Covid-19. On Wednesday, President Trump ordered the Comfort, and its sister ship USNS Mercy to help states affected by overpopulated hospitals. Secretary of Defense, Mark Esper, stated the Comfort would allow local NYC hospitals to transfer trauma patients to the ship, allowing the local hospitals to free up much needed quarantine ICU space.
The Comfort's Background History
The last time the Comfort was here in NY was 3 days after the September 11th, 2001 terror attacks. The mission was called 'Noble Eagle.' It helped aid the injured. NYC will greatly benefit the Comforts arrival. It offers 1,000 beds, 12 fully equipped operating rooms, a helicopter landing pad and up to 1,200 medical staff. The USNS Comfort is just under 3 football fields long and 10 stories high, making it the worlds largest hospital ship.
USNS Comfort will bring civilian doctors and hospital technicians to New York.  Similarities to other USNS vessels where the U.S. Navy is responsible for the operation of the ship, and civilian experts perform on-board missions.
USNS Comfort is one of the Military Sealift Command ships of the U.S. Navy.  Aside from the hospital ships, other specialty vessels such as those operating under the Navoceano division assign civilian scientists to map and gather data of ocean floor topography.  During Fleet Week 2018, NYHC interviewed the USNS Maury and learned about Navoceano's unique missions.  In 2010, USNS Comfort was deployed to Porto Prince, Haiti after its devastating earthquake.  But, before Comfort was able to enter the port, Navoceano scientists searched for underwater debris in the harbor channel, allowing safe entry.
With its massive size, red defining crosses and solid white exterior, the ship is soon set to station in NY.  It will definitely be an amazing site to see. "The Comfort is currently in for maintenance in Norfolk, so they are going to expedite the maintenance if they can and prepare it." Jonathan Hoffman, assistant defense secretary for public affairs, told CNBC. Presently the ship is at the Naval Operation Base in Norfolk, VA.
Live GPS Tracking USNS Comfort
You can track the USNS Comfort on New York Harbors Live GPS Tracking Map. Simply type in the vessels name and it will tell give you a live view of where it is.  Look for the uncharacteristic large, long, white object.  In addition, the NYHC countdown clock will advise on when the ship will be passing under the Verrazzano Bridge.